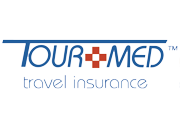 Tour+Med Travel Insurance has been selling travel insurance products to Canadian residents since 1996. They are underwritten by LS-Travel. Tour+Med insures Canada clients from three months old and up with no real age caps and their per client underwriting department makes them popular with snowbirds and people with pre-existing conditions.
Advantages
TourMed can provide travel insurance plans to Canadians with pre-existing conditions on a case by case basis
No defined upper age cap so even older clients are eligible provided they meet health minimums
Can increase the $0 standard deductible to reduce plan costs by up to 30%
Can willingly exclude an unstable body system to get a lower premium. For example, if asthma is unstable, then the client can exclude all respiratory disorders.
No medical questionnaire for those under 59
Can add on extra days while travelling up to five days before current plan expires provided health status is unchanged
Unique to Tour+Med : Their deductibles are applicable to hospital-care only, and are not charged to the clients if they go to a clinic. As in: charged only if they go to the hospital or require ambulance transportation
Tour+Med gives discounts for early bird purchases and multi person purchases
Disadvantages
Medical coverage not available to residents of NS, NWT, NU, PEI or the Yukon
No plans for students, Expats, Visitors to Canada or Supervisas
Online purchase does not provide access to all of their options, medical department, etc.
No comprehensive coverage is included with any medical plans so non medical things like trip cancellation and baggage loss are covered under a separate plan though there is a 5% discount if both are purchased together
Tour+Med Travel Insurance Plans
Tour+Med offers medical and non medical packages including top-ups, single trip plans, family plans and multi-trip annual plans. All plans include up to $5 million in coverage with $25,000 accident death insurance included.
Tour+Med Single Per Trip Plans
Tour+Med offers per trip plans for anywhere in the world for a maximum duration of 183 or 212 days (the max length of time is determined by your home province). Longer trips are possible but they must be pre-approved by Tour+Med.
Tour+Med Family Plans
Tour+Med offers per trip plans as well as annual plans for 48 days or less for anywhere in the world for families with up to 4 children with certain restrictions.
Tour+Med Multi-Trip Annual Plans
Tour+Med offers multi-trip annual plans for unlimited trips from 8 to 30 days for an entire year depending on which plan you go with.
Non Medical Insurance Plans
Tour+Med offers a separate non medical insurance plan that can include trip cancellation and interruption, baggage insurance or accidental death and dismemberment insurance
You Need to Know
Medical coverage can be sold to residents of NB, QC, ON, MB, SK, AB and BC.
Non-medical coverage can be sold to residents of NB, QC and ON only, aged below 86.
Medical Questionnaire
0-59 years old : without medical questionnaire but must satisfy eligibility and have 3 months of stability for pre-existing conditions to be covered.
60+ : medical questionnaire is mandatory… but has only 7 questions! Must satisfy eligibility and pre-existing conditions must have 6 months of stability to be covered (exception : high blood pressure requires only 2 months of stability if it is not combined to any cardiac, vascular, respiratory or neurological conditions.)
Medical Department
People with severe pre-existing conditions or combinations of conditions might need personalized underwriting from Tour+Med's medical department. Their medical department will analyze your answers to the regular medical questionnaire as well as to their more detailed medical questionnaire and will provide a personalized offer to you, based on your medical history.
Reduced Stability Period Option
You can reduce the required stability period of a pre-existing condition from 6 months to 30 days prior to departure.
Optional Exclusion Option
If you have an unstable body system, you can exclude it to get a lower premium. (Ex : Your asthma is unstable; you can exclude all respiratory disorders.)
25% Deposit Option
If money is tight, you can pay only 25% of the premium at the time of purchase and your balance is payable up to 2 weeks before your departure date.
Discounts
2 travellers discount (5%), Early Bird (last season they offered 7% per applicant, from July 11th to August 31st) , Combined protection (medical and non-medical coverage on the same policy)
Deductibles
All Tour+Med's policies are sold deductible-free. You can add a deductible ranging from $250 to $10,000 to get from 5% to 30% reduction.
Unique to Tour+Med, their deductibles are applicable to hospital-care only – NOT charged to you if you go to a clinic so call before you go since charged only if you go to the hospital or require ambulance transportation.
Miscellaneous
Accident death insurance included ($25,000)
Emergency round trip included
Where to learn more about Tour+Med travel insurance
You can learn more about Tour+Med travel insurance through brokers, financial advisors, directly through them via phone and online via their website.
If you're interested in learning more about one Tour+Med's plans you can visit their website here.
Want to Compare TourMed Rates and Plans?
If you'd like to compare TourMed plans and policies with other travel insurance companies, the quickest way is to get a few comparison quotes.
Comparison websites, like Kanetix.ca, let you learn more compare quotes for travel insurance from several different companies at once. You type in a few details about your trip, and compare policy coverage and prices to help narrow down your choice. Check out our review of Kanetix.ca.
By: Kanetix Travel Insurance
*As always, the information on this page is from one Canadian traveller to another. We have spent years abroad and have gotten to know the ins and outs of the industry however we are not travel insurance agents. If you have any travel insurance questions, please talk to a qualified travel insurance agent or broker. Finally, policies and plans can and do change all the time, without warning, so always consult your insurance policy since that is the legal document to which you are agreeing to.
*This article is only intended as general advice. Please check your own policy carefully.